CHILDREN'S MATERIALS
The Does God Exist? program has materials which can be used to help children understand how the Bible and science are friends, not enemies.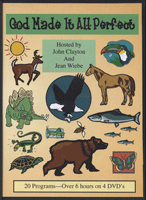 Children's Video Programs — This series of videos helps children to understand the Creation. God Made It All Perfect is a program of four discs/20 programs that John Clayton and Jean Wiebe produced to help children understand how there is design and thus a Designer in the various aspects of the Creation.
Another children's video program is Grandpa John's Science Lab. John Clayton teaches elementary children several different science lessons from a Christian perspective. This series is more science oriented than the God Made It All Perfect series, which makes it ideal to supplement the studies of children who are homeschooled. John presents demonstrations that will help the student understand the concepts presented. A teacher's guide is included that can help the homeschool teacher present these same demonstrations.
The Does God Exist? program has several websites that can help children learn more about the world in which they live. One is Science Terrific. It is an interactive site that allows the viewer to click on certain areas of the screen, which reveals information about that subject. Children can explore the world around us and learn many fascinating things about the Creation. Note that parts of the site are under construction. A second site, Dandy Designs, is similar to the column in our bimonthly journal and shows examples of beauty and design in nature. The articles in Dandy Designs are beneficial to adults as well as children. The Dandy Design articles are not only available in the Does God Exist? journal, but are also available in a printed book available through our catalog.
Dinosaurs: One of God's More Interesting and Useful Creations — by John Clayton and illustrated by Gerry Kravets (Miller) and Jay Love. This book on dinosaurs gives children a possible explanation that is logical and consistent with both science and the Bible.
Frogs and Toads: God's Bug Snatchers — by Charlsy Ford. "God has made frogs and toads to help us by catching bugs and things that would harm us." (This online book is viewed as a PDF file. You need to have Adobe Acrobat Reader to view it, which is available from get.adobe.com/reader/.)
How Do I See? — by John Clayton and illustrated by Gerry Miller. The design of the human eye is explained as a masterpiece of God's wisdom.
Outrageous Me! — by Eric Johnston. An imaginative look at what we might think we should become, ending with the realization that God has made us, and we are perfect because He cares about us.
Why Is the Sky Blue? Why Are Trees Green? — by John Clayton and illustrated by Gerry Miller. The connection between blue skies and green trees is shown as one of great wisdom.