Does God Exist? Suffers A Loss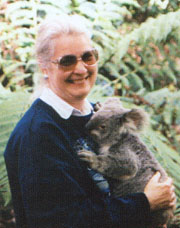 Early the morning of
May 9, 2008
, Phyllis Clayton lost her battle
with diabetes
after living with it for about sixty years, since the age of ten. She lived through many complications of diabetes: insulin reactions and blood sugar problems; eye problems; diabetic neuropathy; kidney function; heart problems; osteoporosis, circulation problems, and diabetic ulcers. She often quoted Dr. John Warvel, Methodist Hospital, Indianapolis, often, "Control your diabetes to live, not live simply to control your diabetes."

Because of this guiding principle she was able to live a full life. She was married to John Clayton for almost fifty years. She and John raised three children: a son, Timothy of South Bend, Indiana, who has multiple handicaps; a daughter, Cathy Haught of Abilene, Texas; a daughter, Wendy Howe of Irving, Texas. Cathy and Wendy have blessed Phyllis and John with five adored grandchildren.

Phyllis graduated from Indiana University in Bloomington. Early in her career she worked as a dietician and cafeteria manager with the South Bend Community School Corporation. In the late 1960s John began the

Does God Exist?

program of which Phyllis was an integral part. She worked in many facets of the program and was very supportive of John's traveling and lecture program. She helped with the publication of the

Does God Exist?

bulletin as well as many other publications of the program. Recently she authored a book about living with diabetes--

Living Successfully with Diabetes

.

She was an active member in many churches, recently with the Dowagiac Church of Christ in Dowagiac, Michigan. She was a great inspiration to everyone who knew her.

There was a memorial service at Hickey Funeral Home in South Bend, Indiana, on Thursday, May 22, 2008.
In her memory
donations can be made to the American Diabetes Association or to

Does God Exist?

, PO Box 2704, South Bend, IN 46680-2704.


We wish to thank those who have expressed their condolences by sending cards, donations, or flowers. We have tried to express our gratitude, but were unable to do so on some because we were not able to put names with correct addresses. Thank you for your care and concern.

John Clayton and family and the

Does God Exist?

staff