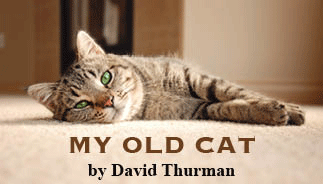 (This article is reprinted with permission from Gospel Minutes. PO Box 50007, Fort Worth, Texas 76105.)
My cat, Maui, is almost sixteen years old, which is getting on up there for a cat. She has lost most of her teeth. The highlight of her day no longer involves a string or a toy bird. Now, instead of playing and chasing until she is tired, she sleeps — resting up for her next nap. In between she has a healthy appetite, but little energy for anything else. Still, as I watch my cat age, I learn some more valuable lessons about God and how He responds to those He cares for.
CLOTHES ARE EASY FOR HER
I was standing in our walk-in closet, trying to figure out what to wear. It was one of those cold morning/warm afternoon fall days in Texas. In comes Maui, rubbing on my leg and purring. I noticed she was wearing the same thing she has worn all her life. She has her thick coat of gray/silver hair and her collar with her tag and contact information. She never has to worry about choosing what to wear or how she looks. For her, those choices are easy.
But, then I realized, they should be easy for me. Why do I worry about what I should wear or how I look? After all, God is going to provide what I need. "And why are you worried about clothing? Observe how the lilies of the field grow; they do not toil nor do they spin, yet I say to you that not even Solomon in all his glory clothed himself like one of these. But if God so clothes the grass of the field, which is alive today and tomorrow is thrown into the furnace, will He not much more clothe you? You of little faith!" (Matthew 6:28 – 30, NASB). Jesus assures us that God can clothe us just as well as He clothed my cat. My needs are confused by my wants. I want more. I want to look a certain way. It would be nice to be a cat who has no worries about what to wear.
And, looking good is not the most important thing anyway. "Your adornment must not be merely external — braiding the hair, and wearing gold jewelry, or putting on dresses; but let it be the hidden person of the heart, with the imperishable quality of a gentle and quiet spirit, which is precious in the sight of God" (1 Peter 3:3 – 4). My cat is content to look the way she does, without added decoration. I think we could all learn to be content and worry less about how we look. Instead, as Peter says, we should worry about how we act and why we act that way.
SHE WEARS A TAG
The only thing on our cat is a tag that has a phone number and her name. Maui is an indoor cat, but if she manages to get outside she can be returned to us when people read her tag. The tag indicates where she lives and the people she lives with.
As Christians, we too should be wearing a "tag" that lets the world know to Whom we belong. As the believers in Antioch were known, so should we be known. "The disciples were first called Christians in Antioch" (Acts 11:26). People around us should not have a problem identifying who our Lord is. When others meet us, there should be something in our attitude, our actions, our love and compassion that tells them we belong to Christ. When we put on our Lord in baptism, we make a decision to be clothed with him. We no longer live, but He lives in us. "For you are all sons of God through faith in Christ Jesus. For all of you who were baptized into Christ have clothed yourselves with Christ" (Galatians 3:26 – 27). "I have been crucified with Christ; and it is no longer I who live, but Christ lives in me; and the life which I now live in the flesh I live by faith in the Son of God, who loved me and gave himself up for me" (Galatians 2:20). Like my cat, we should all wear a name that reflects whose we are.
HER FOOD IS PROVIDED
While I scurry around trying to make a living and put food on the table, my senior feline simply waits for me or my wife, and then starts letting us know it is time to feed her. Due to her loss of teeth, she has to eat soft food, but she cannot open a can. She cannot use a spoon to put the food in her bowl. She simply waits for us, or pesters us, or complains to us until one of us gets up and feeds her. We try to be diverse, giving her fish one time, chicken another, and so on. But, still, her whole experience with food is totally dependent on us.
Again, I realize I am much like my cat. I work to provide, but in fact, it is the Lord who puts the food on the table. Jesus lets us know that in His model prayer. "Give us this day our daily bread" (Matthew 6:11). While we scurry about, thinking we are making it all happen, Jesus reminds us that our food, our provisions, the meal we eat today, is all from God. That is why Jesus goes on to tell us not to worry about the food. "Look at the birds of the air, that they do not sow, nor reap nor gather into barns, and yet your heavenly Father feeds them. Are you not worth much more than they?" (Matthew 6:26). If God can feed birds and I can feed a cat, why do I worry about God feeding me? As Paul promised, "And my God will supply all your needs according to His riches in glory in Christ Jesus" (Philippians 4:19).
SHE MAKES HER MESSES
As she has gotten older, Maui has become more temperamental in her body functions. She has more hairballs than she did as a younger cat. Each time, she throws up two or three times, causing my wife and me to scramble to get her off the carpet or at least to clean up after her. Although we keep her cat box clean, she has the occasional accident away from her box. About once a week, I am on my knees cleaning up the spots she has created. It is work, and somewhat gross, but it has to be done.
Then, I realized that I too make messes and rely on the Lord to clean them up. "There is none righteous, not even one" (Romans 3:10). "For all have sinned and fall short of the glory of God" (Romans 3:23). All of us have made a mess of our lives. We have tried to do right, but failed. We have all sinned and all of us have let God down by failing to live as we should.
Some might argue they have been in the church a long time and sin is no longer a big issue. John would say otherwise. "If we say that we have no sin, we are deceiving ourselves and the truth is not in us. If we confess our sins, He is faithful and righteous to forgive us our sins and to cleanse us from all unrighteousness. If we say that we have not sinned, we make Him a liar and His word is not in us" (1 John 1:8 – 10). We never reach a point in our relationship with God that we can claim to be sinless. We have to face and confess our sins. Each time I clean up another mess my cat has made, I remember how God is following me around cleaning up my m esses. I keep letting Him down. So, I can be patient with my cat, and I can be patient with others who keep on making messes in their lives.
SHE NEEDS A CLEAN UP
If you make a lot of messes as my cat does, someone will have to do the cleaning. She is unable to use a rag or towel or cleaning products. She is basically helpless. She can only make the mess, not clean it up. Someone bigger, smarter, and more skilled than her has to keep her living space clean.
Again, it hit me that is exactly what I depend on with the Lord. As I said, I have made lots of messes, and nothing I can do will change that. Some of these mistakes are long-lasting, with long-lasting effects. When I come across another mess I have made, I have to turn to the only One who can clean up after me. "For we do not have a high priest who cannot sympathize with our weaknesses, but one who has been tempted in all things as we are, yet without sin. Therefore let us draw near with confidence to the throne of grace, so that we may receive mercy and find grace to help in time of need" (Hebrews 4:15 – 16). When I need mercy and grace, I turn to the Lord — the only one who can deal with my mess. Like the tax collector, I need the Lord to make things right. "But the tax collector, standing some distance away, was even unwilling to lift up his eyes to heaven, but was beating his breast, saying, 'God, be merciful to me, the sinner!' " (Luke 18:13).
An important lesson I need to learn from my aging cat is the realization that my messes are as gross and disgusting to God as hers are to me. I need to remember that I can live with the Lord only because of His grace and mercy. When I recall that, I will be much more patient with those around me. Do others make messes? Do they sin and cause problems? Yes. But, my mess is no better or easier to clean than theirs. All of us are messy, all of us need a Savior to clean up after us.
SHE IS ALWAYS LOVED
Maui can be a real pain. Sometimes when we feed her she turns up her nose and refuses to eat what we have given her. Sometimes it is food she had eaten for years and suddenly she won't touch it. I know cats can be picky, but it is frustrating to provide your best and have her to turn up her nose and reject it. After an hour of cleaning up her messes, more than once I have been put out with her. But, after a while, she will come and crawl into my lap and purr. I will rub her ears and hold her and everything feels good again. The fact is, troubles, messes, pickiness — I love my old cat.
The good news here is that God is the same with every one of us. If you are a Christian, you know well how much God loves you. "By this the love of God was manifested in us, that God has sent His only begotten Son into the world so that we might live through Him. In this is love, not that we loved God, but that He loved us and sent His Son to be the propitiation for our sins" (1 John 4:9 – 10). God has proven His love for you. And the good news for us as Christians is that love is stronger than all the enemy can throw at us. "For I am convinced that neither death, nor life, nor angels, nor principalities, nor things present, nor things to come, nor powers, nor height, nor depth, nor any other created thing, will be able to separate us from the love of God, which is in Christ Jesus our Lord" (Romans 8:38 – 39).
If you are not a Christian, God still loves you in spite of all the sins you have committed, in spite of all the mistakes you have made, and in spite of all the messes you have left behind. "For God so loved the world, that He gave His only begotten Son, that whoever believes in Him shall not perish, but have eternal life. For God did not send the Son into the world to judge the world, but that the world might be saved through Him" (John 3:16 – 17). God loved you enough to send His Son to save you. He does not desire your punishment. Just as I love my old cat and would not hurt her for the world, neither does God want to condemn you. "But God demonstrates His own love toward us, in that while we were yet sinners, Christ died for us" (Romans 5:8).
You can count on the love of God. If I, being a human, can love a silly cat unconditionally, is it hard to think that a loving God feels so strongly for you? God loves you and desires your salvation. Put your faith in Christ, turn from your sin and be clothed with Him in baptism. You will experience a joy, a love, a blessing greater than anything you can imagine. My cat is just a cat, but you matter to God. He loves you and wants to save you.
Picture credits:
©visual28. Image from BigStockPhoto.com
©Sandra Gligorijevic. Image from BigStockPhoto.com