Yeah, this is the proverbial "tough pill to swallow" for many people. And it's perfectly understandable that we elevate ourselves in relation to everything else. When we come into the world it really is "all about us!" The newly arrived cries and someone immediately feeds it. The child cries and someone changes its nasty diaper. (We MUST be important! Otherwise who would do that?) We cry and someone rocks us to sleep.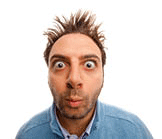 Slowly, over time, the response isn't quite so immediate. That's especially true if a sibling arrives. Divided attention is humbling. Then we start to grow up. By the time we hit high school we are still pretty heady. We spend endless hours in front of mirrors because everything has to be "just right." We need to wear just the right clothes. Our hairstyle has to be "acceptable." We think we "non-conform," but even that falls within certain established limits of acceptability. The high school years take a toll. Psychiatrists have warned that many young people base their self-worth on how many Facebook friends they have. (sigh)
Then come the post high school years. We have assumed that everyone thinks about us 24/7, but now reality starts to sink in. "Gee, maybe people aren't actually thinking about us at all unless we're right there in front of them … ." That is a sobering thought.
Add more years and we discover that even standing directly in front of people doesn't prioritize our presence. All it takes is a vibration from a cell phone to divert their attention to a person far away. I imagine the later years are the worst. I foresee grabbing people by the ears and forcibly turning their heads to make eye contact. "Hello? Remember me?" It will have gone full circle from 24/7 "It's all about me" to 24/7 "Oh, are you still here?"
But that's the cycle of life. The balance will never be perfect and yet humility is not a bad thing. Too much of "us" is not in our own best interest. In the later years we tend to think more about God, and perhaps that is because God really does think about us 24/7.
Picture credits:
© Antonio Gravante. Image from BigStockPhoto.com.