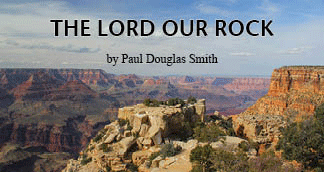 When we think of God as our rock we usually think of the defensive strength God provides — like a fortress. However, there is another aspect in which a rock can bring stability in times of turbulence to deliver us to the other side. Dr. Smith gives us an illustration.


Missionaries in Africa, who serve in very remote areas, often have to cross through swift-running streams in order to get to the villages where they want to minister. The greatest danger in crossing these streams is getting swept off their feet and plunged into deeper, more rapid waters where they may get hurt or drowned. The local natives taught the missionaries to pick up a heavy stone and carry it along as they crossed the stream. The added weight would give them stability as they waded across the swiftly moving waters.
The world is a lot like these swiftly moving streams in Africa. As we wade through it, we must take care that we are not tripped up by the world's rapid currents and swallowed up by Satan's worldly devices.
Deuteronomy 32:4 shows us that the Lord "is the Rock." This is to say that he is our refuge and strength. Even more, when we truly have him in our hearts, we will have stability, and though we may stumble, we will never fall down in the dark and deadly waters of Satan's world (Psalm 46:1).
Picture credits:
© Roland Earnst
© ArtmannWitte. Image from BigStockPhoto.com