Return to 3rd Quarter 2017 articles.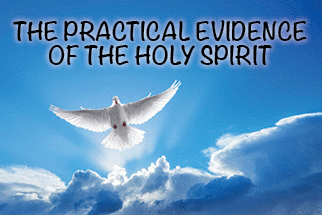 This journal and this ministry deal with evidence. We are not primarily theological in our approach, but rather calling twenty-first-century men and women to look at the evidence and respond logically in a practical way to where the evidence leads. Most of our discussions have revolved around the massive evidence for the existence of God. Recognizing that there is evidence, the most basic question that might follow is why it matters. Many of us might say, "OK, there is something out there" but want to stop at that point. Why does belief make any difference in how I live or what I do? Even people who claim to be Christians may not be able to tell you how being a Christian gives them any special help or makes any difference in how they live. In Acts 2:38 – 39, Peter explained to the people of his day what they needed to do to be forgiven of their sins. He also made a promise of special help to all who make the decision to become Christians. He said, "Repent and be baptized, every one of you, in the name of Jesus Christ for the forgiveness of your sins. AND YOU SHALL RECEIVE THE GIFT OF THE HOLY SPIRIT. The promise is for you and your children and for all who are far off — for all whom the Lord our God will call" (emphasis mine).
Many years ago when I was in the army, I was driving a truck as part of a survey section because our usual driver was on KP. I had to drive because everyone else was doing their jobs, and as the Sargent who supervised everyone, I was the only one available. It was late in the day, and I was 20 miles from the nearest road. Suddenly the truck died, and I suspected it was out of gas. (There was no gas gauge in those trucks.) The can of gas on the back of the truck was empty. I called for a mechanic on the radio and was told that none was available until morning. I spent a very cold, mosquito bitten, hungry, frustrated night trying to sleep in the cab of the truck with no springs in the seat and only a canteen of water. Finally, about 9:00 the next morning, a mechanic arrived. He reached under the dash of the truck, grabbed a handle and turned it so the auxiliary gas tank would kick in. He then started the truck, made a few dicey comments about the stupidity of non-coms. Then he drove away yelling at me to be sure to fill both gas tanks and turn the handle back when I got to the base. I would suggest to you that most Christians have not accessed all of the help that is available to us as we fight the battles of life.
To many people, the Holy Spirit is like a genie in a bottle — totally mystical and unknowable. That is in contrast to many statements in the New Testament telling us that as Christians we have that help available. In Acts 7:48 – 51 Stephen spoke to his religious peers about their relationship to God. First, he addressed their attempts to do things their own way. "The Most High does not live in houses made by human hands. As the prophet says, 'Heaven is my throne, and the earth is my footstool. What kind of a house will you build for me? says the Lord. Or where will my resting place be? Has not my hand made all these things?' … You are just like your ancestors: you always resist the Holy Spirit." I would suggest that challenge is valid against us today. We build huge houses of worship, and yet God tells us our bodies are the temple of God (1 Corinthians 3:16).
In Romans 7:24 – 8:6 Paul talks about what should be true of all Christians: "… through Christ Jesus the law of the Spirit who gives life has set you free from the law of sin and death. … [we] do not live according to the flesh but according to the Spirit. … those who live in accordance with the Spirit have their minds set on what the Spirit desires." It is important to understand that we are not made into robots by the help the Spirit gives. First Thessalonians 5:16 – 22 warns Christians not to put out the Spirit's fire. It was up to me to turn the supplementary fuel tank lever in the truck. I chose not to through ignorance, and I would suggest that is true of many of us regarding the help offered to us by God's Spirit.
The Holy Spirit is mentioned in the Bible over 800 times. In the Old Testament, the Hebrew word ruach was used to designate the Spirit working in a situation. The Spirit came upon a person and then left. In the New Testament, the Greek word pneuma is used. The difference is that the Spirit comes upon a person and stays. That is what Peter referred to in his message on the day of Pentecost. For the seeker, the Spirit gives power, laying the groundwork for God's use of us. People without God's Spirit are incomplete, insecure, and usually frustrated. Jesus referred to this frequently. In Matthew 7:7 – 12 he told his followers, "Ask and it will be given to you; seek and you will find; knock and the door will be opened." In John 14:15 – 17 we read, "If you love me, keep my commands. And I will ask the Father, and he will give you another advocate to help you and be with you forever — the Spirit of Truth. The world cannot accept him because it neither sees him nor knows him. But you know him for he lives with you and will be in you." All of this is in the context of "another Counselor [advocate]" — one like Jesus. Christ did not bring people riches or fame, but something far more important. The way the Spirit helps us is something far more important than money or politics.
Is all of this just a bunch of religious gobbledygook? In Ephesians 3:16 – 20 Paul suggests that we can see this in practical ways. "I pray that out of his glorious riches he may strengthen you with power through his Spirit in your inner being, so that Christ may dwell in your hearts through faith. And I pray that you, being rooted and established in love may have power, together with all the Lord's holy people, to grasp how wide and long and high and deep is the love of Christ, and to know this love that surpasses knowledge — that you may be filled to the measure of the fullness of God." Here is a list of things we can see happening in our lives when we become Christians and receive the gift of the Holy Spirit:
(1) The Holy Spirit helps our prayer life. Romans 8:26 – 28 tells us that no matter how weak we are, the Spirit will intercede for us. When my son was born with multiple handicaps, I did not know what to pray for. When my wife was at death's

door and was in pain, I did not know what to ask. The prayers that I found coming from my heart were mysteries to my non-believing friends. The Spirit helps us in those times when the problem is beyond us. Ephesians 3 ends with, "Now to him who is able to do immeasurably more than all we can ask or imagine, according to his power that is at work within us, to him be glory in the church and in Christ Jesus throughout all generations."

(2) The Holy Spirit helps us to be patient. Galatians 5:22 – 23 lists things the Spirit helps us with, and patience is one of those. That is a challenge in life — even in how we drive our cars. I was a borderline road-rage addict before I became a Christian. Now I am much more patient (not perfect), but it has been a product of the Spirit helping me and answering my prayers.
(3) The Holy Spirit helps us find the joy of giving. In 2 Corinthians 8:1 – 7 Paul refers to the ability to give willingly as a grace — as a product of the Spirit (see 1 Corinthians 12.) I was raised in an atheist home where survival of the fittest was the basis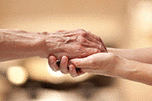 of everything that we did. Giving was done to maintain one's social standing, but it was done with resentment and with a social profit motive. Acts 20:35 tells us it is more blessed to give than to receive. Second Corinthians 9:7 says that God loves a cheerful giver. Those seemed like alien commands I would never achieve. It took time and help beyond description, but I have learned how to enjoy giving. I do not mean just money, but time and love and everything that matters in life. Intellectually I could never do this, but with God's help through the Spirit, I have seen the grace of giving grow in my life. The evidence that this is beyond my education, history, and family upbringing is obvious. Mature Christians find the strength to give with joy that the world cannot comprehend.

(4) The Holy Spirit gives Christians the power to resist temptation. Romans 6, Galatians 5:16 – 26, Colossians 3:1 – 19, and Romans 8:1 – 17 are just a sampling of biblical advice and support for resisting the temptations that we all face. In today's society, sexual purity is generally viewed as an impossible and unreasonable choice. We are all saturated with movies, TV programs, advertisements, and literature which advocate expressing one's sexuality with anyone or anything that is available and willing. The Bible promises Christians help in resisting the pressure to engage in sex with someone other than their wife or husband. This is not just a young person's struggle. To lose your wife to death after being married for 49 years and enjoying a fulfilling and secure sexual relationship leaves you with needs as strong or stronger than when you were 21 years old. Asking God's help and being open to the Spirit's leadership in resisting the biological urges you feel, is a war you can win. I know that from personal experience.
(5) The Holy Spirit gives us the ability to find the gifts God has given us and opens the doors to allow us to use and enjoy those gifts. First Corinthians 12:1 – 3 makes the promise to Christians that they will be able to do what the world might say is impossible. When I was taking F-100 at Indiana University, the course was titled "Introduction to Education, " and all prospective teachers had to take the course. We were sent to the speech department where they had us do some tests to make

sure we could speak well enough to be a classroom teacher. The head of the department was a friend of my father. He took me aside and told me I had some severe problems in articulating and organizing my thoughts. He said that I should give up the idea of being a classroom teacher and go into some kind of administration. He told me, "You should never speak publicly, and stay out of the classroom because the children won't be able to understand you." That was the world's view of my abilities — or lack of ability. I had become a Christian by that time, and I really felt God had called me to teach science in a public high school, so I rejected the world's wisdom. After 41 years of teaching science in a public high school, and having a great experience in both teaching and public speaking, I have to say that what I have done is not because of my abilities or strength. God's Spirit has given me the power to overcome my own inabilities.
The skeptic will look at all of this and say, "That is all coincidental and emotional." Even though these things cannot be weighed or measured with a yardstick, if you look carefully at what has been accomplished in the life of a strong Christian you will see evidence that it was not a product of his strength, upbringing, or education. Some of the most productive lives have been people who came from poor backgrounds with little education or obvious talent. Late in life most active Christians can look back and realize that what seemed impossible actually happened. The Spirit works in mysterious ways, and the Spirit is active in today's world.
In Acts 26 a situation developed where Paul talked to a leader named Agrippa about the reasons why he should become a Christian and allow the Spirit to work within him. Agrippa seemed to have felt the nudge of the Spirit, but he blows it off by saying to Paul, Do you think in such a short time I can make such a change? Paul indicated he could, but the world was challenging Agrippa, and so he resisted the Spirit. Many of us resist the Spirit in the same way. God never forces us to change, to become the "new person." God's Spirit will not come to a place to which he is not invited.
Picture credits:
© mbolina. Image from BigStockPhoto.com
© HalfPoint. Image from BigStockPhoto.com
© dizainstock. Image from BigStockPhoto.com
© Andrey Burmakin. Image from BigStockPhoto.com
© ChristianChan. Image from BigStockPhoto.com
© digitalskillet1. Image from BigStockPhoto.com