"What is Tebowing?" you might ask. It is named for Tim Tebow, the 25-year-old quarterback of the New York Jets. In a sport where reputations are built on physical strength, violent force, and often seemingly abusive behavior, Tebow is known for kneeling in prayer, or as it has become known in the media, "Tebowing." It is interesting how controversial this has become.
Tebow was born in the Philippines where his parents were Baptist missionaries. After his family returned to the U. S., he was home-schooled, but allowed to play football for a local high school team. He had a stellar career at the University of Florida, winning the Heisman Trophy as a sophomore in 2007. He was drafted by the Denver Broncos in 2010 and later traded to the New York Jets.
Faith has always been an important part of Tebow's life. So what's the problem? Tebow is being criticized for being too outspoken about his faith. Even some believers fear he is being seen more as a cliché than a genuine demonstration of faith. Other NFL players have started mocking him. When the Detroit Lions played the Broncos, a Lions player "Tebowed" after sacking him. Another Lions player did the same after scoring a touchdown. Jake Plummer, former Broncos quarterback, admitted his admiration of Tebow's ability, then expressed the wish that he would "just shut up after a game and go hug his teammates." Kurt Warner, another NFL quarterback with a reputation for having once been too outspoken about his faith, in an interview with Dan Bickley of The Arizona Republic, suggested that Tebow needs to realize that being too overt causes people to become defensive and resistant. "You have to be more strategic … The greatest impact you can have on people is never what you say, but how you live."
Athletes who pray or publicly acknowledge their faith are nothing new. So, why the reaction to Tebow? Perhaps the answer is best suggested in an item by CNN contributor William J. Bennett, "Don't Mock Tim Tebow." Bennett believes the reason for the criticism of Tebow is because some people are "bothered by his faith, character, and conviction." Then he adds, "Too many in our culture deride good men such as Tebow because they make them feel uncomfortable … that all good actions are a front for ulterior and bad or low motives."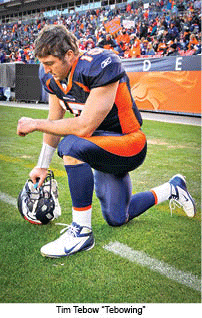 On one hand, should we allow others, especially non-Christians, to deter us from doing what we believe is right? We have sung "Dare to Be a Daniel" believing that his courage and determination to pray to God despite the king's threat of death is an example we should follow. We cannot allow the world to intimidate us into silence or inactivity. Our mandate is to do what is right at all times, regardless.
At the same time, Warner's suggestion that Tebow be "more strategic" may also have some merit. To borrow a thought from Proverbs 27:14, "If a man loudly blesses his neighbor early in the morning, it will be taken as a curse." A good thing, at the wrong time or done in a thoughtless way, can have a negative impact on people. There is nothing wrong with sharing faith or praying publicly. Yet, didn't Jesus warn of doing things to be seen by others? Ecclesiastes says that there is "a time to embrace and a time to refrain, … a time to be silent and a time to speak." There are appropriate times to do some things, and also times not to. Peter encourages Christians to make sure that if they suffer, it is not because they have done anything to deserve it. Rather, God's people are to live in a way that leads others to respect them and through them, God. "Live such good lives among the pagans that, though they accuse you of wrong, they see your good deeds and glorify God on the day he visits us." Thus, by doing good, we are able to "silence the ignorant talk of foolish men."
The various criticisms of Tim Tebow remind us that as believers, we have an image challenge. There are those around us who do not like what we are or what we represent. If we appear to be religious clichés, we will be ignored. If we stand up for what is right, we will be accused of being self-righteous and judgmental. If we don't, we will be seen as weak — possibly even hypocritical. We are not here to please other people. While we do not want our words or actions to detract from our message, neither can we compromise what is right.
Picture credits:
©en.wikipedia.org/wiki/File:Tim_Tebow_Tebowing.jpg